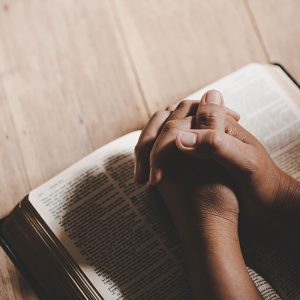 Prayer is:
Exercising our faith to bring our petitions, needs etc., before the Lord that we may be filled with all surpassing peace, flowing from the Prince of Peace – Jehovah Shalom – Phil.4:6,7
An instrument to implement the will of God in our lives, the church and the world. – Mat. 6:10
The means to surrender ones intentions and desires in life and life itself subjecting them to the greater will of the Sovereign God. – Lk.22:42
Thanksgiving for the abundant blessings God showers on us and the protection He gives from all pains and fatalities. – Eph. 5:20
Worshiping the Lord for what He is and praising Him for what He has done. – Ps.29:2 / Heb 13:15
Why pray?
Pray because:
Jesus wants us to pray. – Lk.22:40
Of our dependence on God. – Ps.20:7 / Isa.31:1
Our fellowship with God needs to be renewed and strengthened.- Jas.4:8
We need to be transformed and conformed to the nature of Christ. – Rom.8:2
How to pray?
Pray in Jesus name. – Jn. 16:24
Pray with faith. – Jas.1:6
Pray with humility, submission and repentance. – 2Ch.7:14
Pray persistently, unceasingly and with a grateful heart. – Lk.18:1/ 1Th. 5:17
Pray with a forgiving heart and compassion. – Mk. 11:25
Pray and worship the Lord in truth and spirit. – Jn 4:23-24
When to pray?
ALWAYS – Eph. 5:19-20
Attitude in prayer:
Pray Truthfully, never be a hypocrite. – Mat.6:5-6
God is omniscient, He knows our needs. We need not babble on and on. – Mat.6:7-8
God is omnipresent, He hears our prayers irrespective of place and time. Ps.139:2-4
God is omnipotent, nothing is impossible for God if he wills. – Mat. 19:26
Prayers are answered not because of the "doing" of prayer but because of the grace of God. – Rom.9:16 / Eph .2:8
Pray with undoubting faith and without double-mindedness. Jas.1:6-7
Always seek God's perfect will. – Mat.6:10
Answer to Prayer:
Anointing
Peace
Freedom
Healing
Protection
Blessings
Forgiveness
Righteousness
Patience
Faith grows
Gifts and Fruits of the Holy Spirit
Victory
NO
WAIT
Different kinds of Prayer:
Praise & Worship
Thanksgiving
Agreement
Consecrated
Warfare
Deliverance and Healing
Supplication
Protection
Curse Breaking
Blessing
Intercessory Prayer
Sinners Prayer – Confession
Personal Prayer
Mass Prayer
Prayer in the cell (Core Group)
Prayer in Tongues
Conditions for answering prayers:
Pray in the name of Jesus. – Jn.16.23-24
Pray according to God's will. – 1 Jn.5:14
Ask with right motive (no selfishness). Jas.4:3
Unshakeable and stable faith. Jas.1:6-8 / Mk.11:24
Continuous prayer. Lk.18:1,7,8
Reasons for delayed and unanswered prayers:
Un-repented Sins in ones life. – Isa.1:18-19
Because God has to arrange the circumstances. –
God has a better plan. –
To increase our commitment. –
It is not the time God has destined, – 1Pet.5:6
To test/stroke our faith. –
Unforgiveness. – Mat.6:14 / Mk.11:24,25
Unfinished prayers. – Lk.18:1
Failing to fulfill God given conditions in 2Chro.7:14-15
Our prayer is to get the will of God done in our lives, the family, the church and the world. god has revealed everything in the scripture through the prophets (Amos.3:7). Therefore we should pray that god's plans be done and fulfilled. Our prayers bring God's plan in implementation. If we don't pray, god's plan/will may remain unfulfilled (Mat.6:10). God does only those that are good for us (Rom.8:28 / Isa.55:8-9). God has a time to work (Jn.2:4 / Acts.15:17-18 / Eccl.3:1,11).
FAITH IS NOT AGAINST REASON BUT BEYOND REASON